Little Hereford, Herefordshire
This article was transcribed from the 1896 Kelly's Directory of Worcestershire and Herefordshire.
Little Hereford is a parish comprising the township of Upton on the road from Ludlow to Tenbury, with a station called "Easton Court" on the Shrewsbury and Hereford section (Tenbury branch) of the Great Western and London and North Western joint railway, 3 miles west from Tenbury, 8 miles NE from Leominster, and 144 by rail from London, in the north division of the county. Wolphy hundred, Tenbury union and county court district, Leominster petty sessional division, rural deanery of Ludlow and archdeaconry and diocese of Hereford. The parish is partly bounded on the south by the river Teme, which here divides the county from Worcestershire.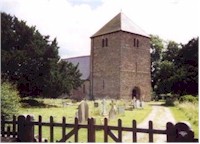 The church of St. Mary Magdalene is an ancient building of stone in the Transition Norman style, consisting of chancel, nave, south porch, and a western tower with pyramidal roof containing three bells; the chancel retains triple sedilia and a piscina and two brasses, one of which is a memorial to John GRIFFITHS, prebendary of Hereford Cathedral, died 18 May 1745 and the second is to other members of his family; there are also several monuments, one of which, against the north wall, executed in white and grey marble, bears a kneeling figure, and is inscribed to Joseph BAILEY, jun., of Easton Court, died 31 August 1850.
In the north wall of chancel are two canopied recesses, enclosing tablets to various members of the DELAMERE family, and dated 1540; in the south wall is a similar recess, but without name or date. The stained east window is a memorial to Joseph BAILEY, esq. MP for the County 1841-7, d. 31 August 1850, and there is a stained window on the south side to his son, William Latham BAILEY, died 15 April 1861. The Church affords 250 sittings. The register dates from the year 1725.
Middleton is a hamlet about 1mile north from the church. Here is a primitive Methodist Chapel, erected in 1868. Upton township is about 1 mile south west from the church.
National school (mixed), built with a residence for the mistress in 1843, and rebuilt in 1865, by Sir J.R. BAILEY, bart., for 110 children. Average attendance 50. Miss Jane ASHFIELD, mistress. A Sunday school is held at the school-room.
Railway Station, Easton Court, William Algernon LLOYD, station master.
---
Records Available for Little Hereford [As of 1999]
Parish Registers available at Hereford Record Office:-
Baptisms 1725-1877. Marriages 1725-1841. Burials 1725-1938.
School log books and admissions registers, held at Hereford Record Office:-
Log Books 1928-1966. Admissions Registers 1937-1960
Census Records:-
Hereford Record Office 1841, 1891
Hereford City Library 1851, 1861, 1881, 1891.
---