Coln St Aldwyn War Memorial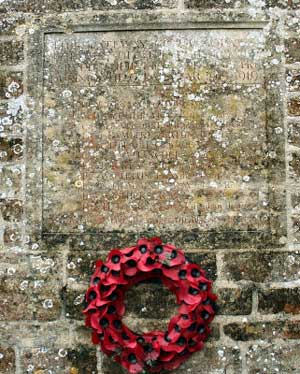 This memorial is a stone plaque inserted in the right gate pillar at the entrance to the church of St John the Baptist, Coln St Aldwyn, Gloucestershire, England
Transcribed by Glen Hicks. Further information and photograph supplied by Alf Beard
---
THIS GATEWAY COMMEMORATES THE MEN OF THIS PARISH WHO SERVED THEIR KING AND COUNTRY DURING THE GREAT WAR
1914-1919.
THESE TEN MEN GAVE THEIR LIVES.
Major M. CHURCHILL. 12th Cavalry I.A.
Capt. M.H. VISCOUNT QUENINGTON. R. Glos. Hus.
Lieut. LAMBERT BARTON. R.F.C.
Corpl.T. LEACH. Gren. Gds.
Corpl. W. C. HANCOCK. Gren. Gds.
Pte. B. BATES. 5th Canadians.
Pte. W. CURTIS. 1st Wilts. Reg.
Pte. E. HEMMINGS.R. Warwick Regt.
Dvr. A. E. HICKS. R.G.A.
Dvr. H. TOMBS. 16th Canadian. L.I.
THE LORD SHALL GIVE HIS PEOPLE THE BLESSING OF PEACE.
PS XX1X.10.
Notes
BARTON Lambert Francis Lt, 74th Sqdn, Royal Air Force, died 17/5/1918 age 19. Son of William L and Frances Barton of Coln St Aldwyn. Buried in Ebblinghem Military Cemetery, France. II.B.37. and brother of John, Flying Officer who was killed in a flying accident at Worthy Down, Hants, 19/1/1931. [This memorial have him listed as being in the Royal Flying Corps]
BATES Basil Pte 105273, 5th Canadian Infantry [Saskatchewan Regt] died 12/10/1916 age 20. Son of Charles and Elizabeth of Coln St Aldwyn. Buried in Etaples Military Cemetery, France VIII.E.2A
CHURCHILL Charles Henry Major, 12th Cavalry, Indian Army. [CWGC have this person listed as being connected with the India Army. Captain 20th Duke of Cambridge's Own Infantry, Brownlow's Punjabis. Son of George F Surgeon Major H P Medical Department The Bungalow, Lillington Road, Warwickshire Most of Charle's siblings were born in India. Buried in Amara War Cemetery, Iraq This memorial has "M"
CURTIS William George Pte 7209, 1st Wiltshire Regt died 31/10/1914. Commemorated on the Le Touret Memorial, France
HANCOCK William Charles L/Cpl 17359, 2nd Grenadier Guards died 15/9/1916. Commemorated on the Thiepval Memorial, Somme
HEMMINGS Ernest Pte TR/7/2759, 51st Royal Warwickshire Regt died 23/10/1918 age 18. Son of Mrs Elizabeth Hemmings of Hatherop, Glos. Buried in Norwich Demetery, Norfolk, 54.529
HICKS Albert Edward Driver Z/3498 Royal Garrison Artillery, 106th reserve Brigade died 14/1/1919 age 38. Son of Frederick and Elizabeth, nee Wicks, of Didmarton, Glos husband of Annie Mabel, nee Leach, of Coln St . Aldwyn. Buried in St John the Baptist churchyard, Coln St Aldwyn. His occupation prior to enlistment was a horse carter on a farm.
HICKS-BEACH Michael Hugh Lt Adjt, Gloucestershire Yeomanry died 23/4/1916 age 39. Member of Parliament for Tewkesbury, son of 1st Earl, St Aldwyns and Countess of St Aldwyn of Coln St Aldwyn. Husband of Victouness Lady Quenington who died in Cario 5 November 1916 and he is buried next to his wife in the Cario New British Protestant Cemetery, Egypt G.321-4. [This memorial have him listed as, Capt M.H. Viscount Quenington, Royal Gloucestershire Hussars]
LEACH Thomas Cpl 17360, 2nd Grenadier Guards died 11/5/1915. Son of John and Alice. Buried in Lillers Communal Cemetery, France III.A.34
TOMBS Henry 16 Canadian Light Infantry [Not listed with the CWGC] [Information as to his Regiment came from this memorial]
---