Cromhall War Memorial
Located at the entrance to St. Andrew's churchyard, Cromhall, Gloucestershire, England.
The list covers both the First and Second World War and includes information from the Commonwealth War Graves Commission.
Photographs of the grave of Private G H HALL and of a memorial plaque to John WEBBER and Albert BEARD are also displayed.
Alf Beard supplied the war memorial details.
Photographs provided by David Wicks
---
In memory of the men of this parish who died for their country in the Great War
1914-1918
SELBY Maurice Sgt 3123 10th Gloucestershire Regt died 25/9/1915. Commemorated on the Loos Memorial France Born in 1878 at Bibstone Cromhall, Gloucestershire and is one of eight of the family of Thomas, a Blacksmith and Eliza nee Cormick . 1891 still living in Bibstone his occupation was a general labourer 1901 saw the start of his army career he was stationed in Horfield Barracks, Horfield Bristol as a recruit age 25
ELLIOTT Frank L Sgt M2/ 147597 Army Service Corps, Mechanical Transport attached to 94th Field Ambulance, Royal Army Service Corps died 12/4/1918. At rest in Outtersteene Communal Cemetery Extension, Bailleul, France II.A. 65 He was born in 1896 as Frank James L at Holywell, nr Wotton under Edge, Gloucestershire and is the son of Frederick, a Farm Labourer and Emma Jane nee Shipway
BRIDGEMAN Cyril (This memorial have him as L/Cpl) Pte 7797, 11 Essex Regt, died 9/9/1916. At rest in Essex Farm Cemetery, Belgium II.Q.12
Son of Thomas, General Labourer and Elizabeth of Long Cross, Cromhall
BARTON Henry Charles Pte (Wheeler) TS/7879, 661st H.T. Coy Army Service Corps died 23/5/1916 age 45. Son of Mr & Mrs Edwin Barton of Cromhall, husband of Susan nee Ford, "Baytree Cottage" Malvern Wells Worcs. Commemorated in Greenwich Cemetery London. Screen Wall 3 "C" A.124
BARTON Frank Pte Unable to find correct one
BEARD Albert Henry Pte 24409 7th Gloucestershire Regt died on Sunday 4/4/1917 age 18ys & 6 months Commemorated at Amara War Cemetery Iraq XXI.K.4 Son of Albert Henry & Mary Melinda, nee Brown of Cromhall Glos. Born in Cromhall 1896
CLARK Albert Pte Unable to find correct one
COLE Gilbert Pte Unable to find correct one
CULLIMORE Henry James, Able Seaman J/28699 H.M.M.L 434 Royal Navy died 24/11/1919 age 22 son of Mrs Florence of Cromhall. Buried in Budapest War Cemetery, Hungary 4.D.9
DYER Edgar W, Pte 21170 Duke of Cornwall's Light Infantry trans to Pte 128263 Lab Corps died 11/10/1918 age 27 son of Joseph & Sarah Jane, The Red Lion, Cromhall and is buried in St Andrews Churchyard Cromhall
EACOTT Leonard Robert Drv 65011, 13th Div Ammunition Col Royal Field Artillery died 27/2/1915 age 24. Son of John & Charlotte of Cromhall husband of Alice Rebecca of Bilstone Cottage Cromhall. Buried in Aldershot Military Cemetery, Hampshire AF.1820
EALEY Stephen Pte 17792 2nd Gloucestershire Regt died 10/5/1915. Commemorated on the Menin Gate Memorial Ypres Belgium
HALL George Harold Pte 10768 3rd Gloucestershire Regt died 20/5/1918, age 25 son of George & Henrietta, of Heathend, Cromhall and is buried in St Andrews Churchyard, Cromhall
PERRETT Albert George, Spr 4821 70th Field Coy Royal Engineers died 8/6/1916 age 29. Son of John & Hannah of Cromhall. Buried in Bethune Town Cemetery France V.E.3
PRATT Wallace Reginald Pte 29067 3rd Worcestershire Regt died 24/8/1916. Commemorated on the Thiepval Memorial, Somme. Born 1893 in Cromhall. Grandson of Daniel & Eliza A nee Hobbs of Cromhall
PRITCHARD William Ambrose Pte. Born in 1896 in Cromhall the son of William, a Woodman and Laura Sylvia nee Pick of Bibstone nr Cromhall. Unable to find correct one
RUMBOLD Sydney Gordon Pte 241944 1/5th Gloucestershire Regt died 2/2/1917 age 25 son of Sydney & Harriet of Cromhall husband of F A, of 7 Hayton View Old Way, Chudleigh, South Devon. Buried in Neuville Communal Cemetery Corbie Somme B.59
TROTMAN James Pte 8118 1st Gloucestershire Regt died 22/10/1914. Commemorated on the Menin Gate Memorial Ypres Belgium
VIGAR Reginald Victor Pte 27968 9th Gloucestershire Regt died 23/10/1916. Buried in Pieta Military Cemetery, Malta D.XIV.3 Born in 1898 in Cromhall the son of William Tucker Vigar, Farm Bailiff and Mary nee Parnell of Cromhall
1939-1945
CULLIMORE Edward Lionel Flt Lt 39860 216 Sqdn Royal Air Force died 18/10/1940 age 21. Son of Walter Victor & Mary Maria of Cromhall. Commemorated on the Alamein Memorial Egypt
KINGSCOTT Ivor James L/Cpl 14533019 2nd Somerset Light Infantry died 5/7/1944 age 22. Son of James & Nellie of Wotton-under-Edge Glos. Commemorated on the Cassino Memorial Italy
GODSELL Wilfred James Lac 2nd Class, 3216003 Royal Air Force. died 6/7/1944. Son of Albert James & Beatrice Hilda of Cromhall .Buried in Cromhall Churchyard
BUTCHER Grenville Kitchener L/Cpl 7691852 Corp of Military Police died 8/9/1944. Buried in Florence War Cemetery Italy VIII.J.4
MURRAY Stanley Digby Flt Lt (Nav) 130784 62nd Sqdn Royal Air Force. Died 17/4/1943 age 23 son of Archibald Digby & Rosamund of Whitfield Glos Buried in Maynamati War Cemetery Bangladesh. 3.A.1
---
Private 10768 3rd Bn Gloucestershire Regiment. Died, age 25, on 20 May 1918 of phthisis following wounds.
Son of George and Henrietta Hall, of Heathend, Cromhall, Charfield
The grave is situated in the north east part of the churchyard of St. Andrew, Cromhall
---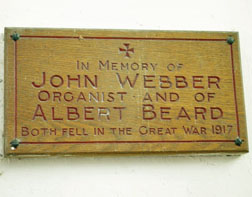 Memorial plaque to John WEBBER and Albert BEARD
Albert BEARD is listed on the Cromhall memorial, but not John WEBBER
WEBBER John William.
Private 201766 14th Bn. Gloucestershire Regiment
Died, age 24, on 22 October 1917. Commemorated on the Tyne Cot Memorial, panels 72 to 75.
Son of John Ford Webber and Mary Ann Webber, of 332, Stapleton Rd., Bristol.
In the 1911 census he was living with his parents at 332 Stapleton Rd. and working as a Colliery Office Clerk
---