Great Barrington War Memorial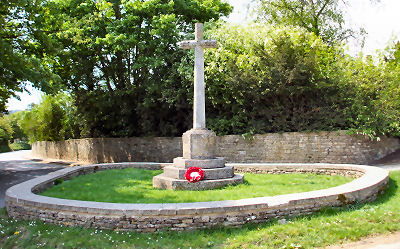 The memorial is sited to the west of the village of Great Barrington, Gloucestershire, UK, on a road junction. Burford is 2 miles to the east.
Transcribed by Glen Hicks. Additional Information and photograph supplied by Alf Beard.
Information on Frank and John Smith supplied by Gaynor Harris.
---
1st panel
THIS MEMORIAL ERECTED IN HONOUR OF THOSE FROM THE PARISH WHO GAVE THEIR LIVES IN THE GREAT WAR
1914-1918
AND IN THE WORLD WAR
1939-1945
2nd Panel
1914-1918
YE THAT LIVE ON MID ENGLISH PASTURES GREEN REMEMBER US AND THINK WHAT MIGHT HAVE BEEN.
1939-1945
AT THE GOING DOWN OF THE SUN AND IN THE MORNING WE WILL REMEMBER THEM.
---
Notes.
1914-1918
BEAN Arthur Robert, Chauffeur, 11037 British Red Cross Society, 16th Sanitry Section died 31/10/1918 age 31. Holder of the Croix de Guerre (France) son of William Stephenson Bean, husband of Ethel Mary of 46 Bexley Street, Windsor, Berks. Born at Four Oaks, Gloucester. Buried in Harlebeke New British Cemetery, Belgium. I.C.10
CAMBRAY William, L/Cpl 4589, 2/5th Gloucestershire Regt, died 26/6/1916 age 32. Son of John and Selina Louisa of Great Barrington. Commemorated on the Loos Memorial, France
CURTIS Albert William, Pte 19161, A Coy, 1st Gloucestershire Regt died 26/9/1915 age 28. Son of John S and Annie of Great Barrington, husband of Ellen Jane of Great Barrington. Commemorated on the Loos Memorial, France
HERBERT Philip Daniel, Cpl 202594 2/4th Gloucestershire Regt died on Monday 3/12/1917. Son of John & Emily nee Weaving of Great Barrington. Commemorated on the Cambrai Memorial, Louveral, France Born 1893. This memorial is listed as Daniel
SMITH Frank, Pte 16310, 2nd Bn Gloucestershire Regt. Killed in action on Sunday 9 May 1915 age 24. Son of James & Ellen of Little Barrington. Born at Windrush, Glos. Commemorated on panel 22 and 34 the Menin Gate Memorial, Ypres, Belgium

SMITH, John (Jack), Private 56251, 23rd (Tyneside Scottish) Bn. Northumberland Fusiliers. Killed in action 14 April 1918, age 22. Son of James and Ellen (nee Fear), of Little Barrington.
Commemorated on Arneke British Cemetery, Grave/Memorial Reference: I. C. 1.
WRIGHT Henry, Pte 10187 Oxford & Bucks Light Infantry died 25/9/1915 age 18. Son of John William and Annie Elizabeth, nee Wagstaff of 68 ? Great Barrington and brother of John who also fell. Commemorated on the Menin Gate Memorial, Ypres, Belgium
WRIGHT John, Unable to find the correct one. Brother of Henry who also fell
WOODS William Alfred, Driver T/327063, 14th Reserve Park, Army Service Corps, died 10/1/1918 age 37. Son of Alfred and Mary of Park Cottage, Great Barrington. Husband of Lucy, nee Sibley of 14 Oak Street, Newtown, Bishop Stortford, Herts. Buried in Rocquigny-Equancount Road British Cemetery, Manancourt, France, IX.C.2
WINGFIELD Cecil John Talbot, Captain, 4th Kings Royal Rifle Corps. Born 25 July 1881 and was mortally wounded near Ypres on April 25th and died at base hospital Boulogne 29th, 1915. Buried in St Mary Churchyard, Great Barrington
1939-1945
COLE Sidney Maurice, Possible this person. Pte 5387921, 1st Oxford & Bucks Light Infantry, died 15/10/1944 age 25. Son of Harry and Emily and husband of Edith Cole, of North Tawton, Devon. Buried at Oosterbeek War Cemetery, Arnhem, Holland
HANDS Phillip Leslie, Sgt, Flt Engineer 1609447, 101 Sqdn Royal Air Force, died 28/9/1943 age 19. Son of Leslie French Hands & Annie of Little Barrington. Buried in St Mary Churchyard Great Barrington
WINGFIELD Mervyn Richard Edward A Rhys Leading Aircraftman 1319011 Royal Air Force died 25/7/1942 age 20. Son of Lt Col Mervyn Edward George Rhys Wingfield, D.L., J.P., and Florence Marguerite Erle Wingfield Nee Benson of Barrington Park, Great Barrington. Buried in Moos Jaw Rosedale Cemetery, Canada. Lot 8 Blk 10 Grave 286
---