Great Washbourne War Memorial & Roll of Honour
War Memorial
Alabaster tablet in St Mary's church, Great Washbourne, Gloucestershire, UK.
IN GREATEFUL MEMORY OF THE MEN OF
THIS VILLAGE. WHO MADE THE SUPREME
SACRIFICE FOR KING AND COUNTRY
IN THE GREAT WAR. 1914 - 1919.
A.V.DYER
R. MYATT
A. SHAKESPEARE
---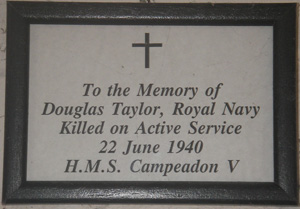 Below this is a plain black framed memorial to the only villager killed in WWII.
To the Memory of
Douglas Taylor, Royal Navy
Killed on Active Service
22 June 1940
H.M.S. Campeadon V
Note, from CWGC:
The vessel name on this memorial is incorrect. It should be H.M.S. CAMPEADOR V, an armed yacht, serving in an anti-submarine role that was mined and sunk off Portsmouth on 22 June 1940
---
Roll of Honour

Located in St Mary's church.


For King & Country

Roll of Service for the Parish of
Great Washbourne in the Great War
1914-1918

Capt R.G.H. Prance
2/1 Staffordshire Yeomanry
2013171 L.Sgt H.G. Dyer
1/5 Gloucestershire Regt
20302 Corp A.V. Dyer
1/5 Gloucestershire Regt
Asst Engineer A. Roberts
A.N.R.
16214 Pte W.A. Attwood
2nd Gloucestershire Regt
21001 Guardsman A.W. Dyer
3rd Btn Coldstream Guards
185284 Gunner W.J. Green
R.F.A.
23728 Pte E.W. Grinnall
2nd Gloucestershire Regt
101610 Sapper A.S?. Haines
146 Field Coy Royal Engineers
212396 Pte F.A. Larner
15th Reserve Batt R.F.A.
2485 Pte W. Myatt
5th Royal Irish Lancers
8818 Pte M. Myatt
2nd Suffolk Regt
249246 Driver E.G. Myatt
Battery 348 R.F.A
9086 Pte H.J. Myatt
3rd Btn Worcestershire Regt
142974 2nd A.C. R.Pope
R.A.F.
25607 Pte H. Roberts
14th Btn K.O.Y.L.I
1986 Pte J. Shakespeare
1st Btn 1st Gloucestershire Regt
3168 Pte A. Shakespeare
8th Gloucestershire Regt
Miss Ada Roberts
V.A.D. Gloucester 34
Notes
101610 Sapper A.S?. Haines 2nd initial may be wrong.
V.A.D Voluntary Aid Detachments. Number 34 was listed in Dumbleton village hall. More information on Voluntary Aided (Red Cross) Hospitals. [External web site]
---
Listings and photographs provided by Evan Lewis August 2013