Oakridge Lynch War Memorial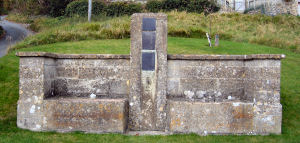 The war memorial is situated at the junction of The Broadway and several other roads, in the village of Oakridge Lynch, near Stroud, Gloucestershire, England.
---
Top Panel.
In GRATEFUL MEMORY OF

George Edward Ivor Fry
PTE.R.A.M.C.
James Frederic Fry
SGT. NAV. RAF
Albert Hunt
PTE RAOC
Stanley Henry Morgan
GNR. R.A.
R.C Baker Stallard-Penoyre
LT. R.N.(A)
Arthur Phipps
GNR. R.A.
James Edward Young
PTE. R. NORF. REGT

WHO FELL IN THE WAR OF 1939-45
INTO THY HAND O LORD
Middle Panel.
In memory of MABEL DEARMER
who went from Oakridge the place she loved best
to give help in Serbia where she died of fever
at Kragujevatz on July 11th. 1915, and of
CHRISTOPHER DEARMER
who died of wounds at Suvla Bay of Gallipoli
on October 6th. 1915 aged 21

Proud of the war all glorious went the son.
Loathing the war all mournful went the mother.
Each had the same wage when the day was done.
Tell me was either braver than the other.

They slept in mire who went so comely ever
Then when you wash let the thought of them abide
They knew the parching thirst of wounds & fever.
Here when you drink remember them who died.
Bottom Panel
THESE OAKRIDGE MEN
ALSO GAVE THEIR LIVES
E. Blackwell
W.G. Hunt
M. Blackwell
R.T. Gardiner
A. Curtis
A. Robbins
W.M. Curtis
A. Rowles
F. Fern
A. Smith
W. Fern
T. White
P. Gardiner
H. Wright
S. Gardiner
A. Young
P. Hill
E. Young
W. Hunt
F. Young
E. Weare
---
Record and photographs taken November 2007