Pauntley War Memorial
Located inside the parish church of St John the Evangelist, Pauntley Gloucestershire England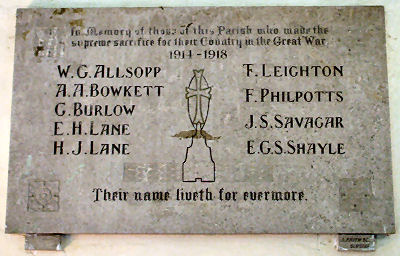 In memory of those men of this parish who made the supreme sacrifice for their country in the Great War 1914-1918
ALLSOPP William George Son of Alvin and Sophia of Hill House, Pauntley.
William George Allsopp was born in Berrow (Worcs.) to Alvin George Allsopp and Sophia Louisa nee Howells. He was baptised at Castlemorton St Gregory on January 12th 1890. His family moved to Pauntley sometime between 1897 and 1901. William enlisted in the navy August 12th 1910: service no.K8424. He was killed - age 27 - when HMS Defence was sunk at the Battle of Jutland on May 31st 1916. His rank at the time was Petty Officer Stoker. He is commemorated on panel 14 on the Plymouth Naval Memorial. William was apparently married to Eva Rebecca nee Robbins, who at the time the CWGC compiled its listing was living at Market Square Newent.
BOWKETT Albert Allen Pte 4813, 1/5th Gloucestershire Regiment, killed in action on Saturday 4 November 1916 age 28. Son of William Albert and Clara Ellen Hewer of Pool Hill, Pauntley, Glos.Buried at Warlencourt British Cemetery, France VIII.C. 5
BURLOW George L/Cpl 10034, 1st Gloucestershire Regt, died of wounds on Sunday 9th May 1915 age 18. Son of Henry and Emily, nee Reynolds of Pool Hill, Pauntley. Commemorated on the Le Touret Memorial, France
LANE Ernest Harold Pte 13561m 7th Kings Shropshire Light Infantry, died 23/10/1918. Son of Mark and Sarah Ann, nee Palmer of Pool Hill, Pauntley and brother of Henry James who also fell. Buried in Vertain Communal Cemetery Extension, France. B.5
LANE Henry James Pte 4418, Somerset Light Infantry, [previously Pte 16536, Shropshire L.I.] Son of Mark and Sarah Ann, nee Palmer of Pool Hill, Pauntley and brother of Ernest Harold who also fell. Buried at Terlincthun British Cemetery, Wimille, France. I.G.47
LEIGHTON Frederick. Son of Frederick and Clara nee Leech of Pool Hill, Pauntley.
PHILPOTTS Frank 2nd Cpl 67579, 124th Field Coy, Royal Engineers, died 1/11/1918 age 22. Son of Mathew and Eliza of Line Nutham, Pauntley. Born in Hindlip, Worcestershire. Buried at Croix Churchyard, France. A.8
SAVAGAR James Stephen M.M. Cpl 30513, 4th Worcestershire Regt, died 29/9/1918 age 21. Son of Edwin and Amy Selina, nee Brack of Prinknash Gardens, Painswick, Glos. Buried at Hooge Crater Cemetery, Belgium, XVII.D.14.
SHAYLE Ernest George Sidney Pte 2023, 13th Australian Army, A.I.F. died 29/8/1916 age 26. Son of Henry James and Kate, nee Gibbs of Pauntley. Buried at A.I.F. Burial Grounds, Flers, France. XV.P.13
Their name liveth for evermore
---
Listing and photograph courtesy of Alf Beard
Amendments provided by Lesley Harding, Clerk to Pauntley Parish Council and Lynne Cookson