Turkdean War Memorial
Located in All Saints Church, Turkdean, Gloucestershire, is a small wood framed paper Roll Of Honour and a memorial to Oliver John Turner.
The nearby small villages of Hazleton and Hampnett do not have war memorials, nor a RoH on display in the church.
Information and photographs courtesy of Evan Lewis
---
ALL SAINTS TURKDEAN ROLL OF HONOUR 1914-1918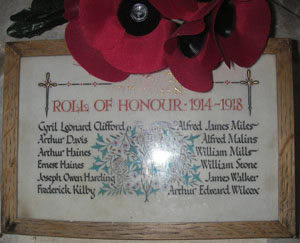 Cyril Leonard Clifford
Arthur Davis
Athur Haines
Ernest Haines
Joseph Owen Harding
Frederick Kilby
Alfred James Miles
Alfred Malins
Wiliam Mills
William Stone
James Walker
Arthur Edward Wilcox
---
MEMORIAL TO OLIVER JOHN TURNER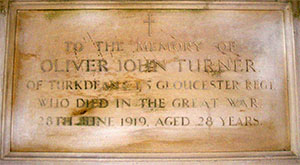 The memorial consists of a stone tablet In All Saints Church Turkdean
TO THE MEMORY OF
OLIVER JOHN TURNER
OF TURKDEAN & 1/5TH GLOUCESTERSHIRE REGIMENT
WHO DIED IN THE GREAT WAR
28TH JUNE 1919, AGED 28 YEARS.
[Note: Date of death 28/6/1919 is correct, and he is buried in the churchyard].