King's Stanley
Inns and Taverns; Parish Records; Places of Worship; Population; Woollen Cloth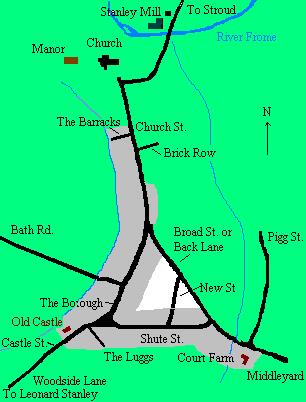 King's Stanley is situated approximately two miles west of Stroud in the County of Gloucestershire, UK
Stanley Mill. Built in 1813 for the manufacture of woollen cloth. The main building was one of the first in England of "fireproof" construction, with iron columns. During World War 2, requisitioned and used by Admiralty as stores.
Manor. 13th and early 14th century surveys record a moated manor house on this site, but it has now disappeared.
The main village, shown in grey was built some 500 yards south of an earlier settlement, which had been near the manor.
Old Castle Inn dates from 1563.
New St. was formed after 1817.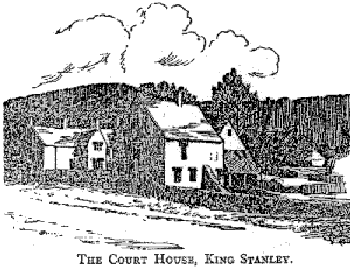 Court Farm dates from the 16th or 17th century. By the 19th Century it was the manor house and an adjoining building was possibly the borough court house. The sketch opposite is from Phillimore's Gloucestershire Notes & Queries
St. George's Church was first mentioned in 1270, but parts of the building are Norman.
Further information and photograph.
The Primitive Methodist Chapel, Selsley Road, was built in 1861 and was used as such for a hundred years, before being turned into a house.
Baptists Chapel. A chapel had existed in the 18th century in Meeting House Lane (now Coombe lane). The present chapel, in Middleyard, was built in 1824. Monument:
Rev. James WILLIAMS, died 22 January 1818, aged 58 Years. Also Ann, his daughter, died 15 November 1813. Aged 17 years. Sarah, relict of Rev. J. WILLIAMS, died 14 June 1842, aged 76 years. Brass inscription plate by Richd. DEAN, KS [King's Stanley], Engraver.
Another Baptist Chapel, no longer in existence was built in Woodside lane.
| | | |
| --- | --- | --- |
| 1801 = 1434 | 1811 = 1722 | 1821 = 2269 |
| 1831 = 2438 | 1861 = 2038 | 1871 = 2212 |
The manufacture of woollen cloth was important in King's Stanley. An early parish register records in the frontispiece "There was a large immigration of Flemish families to the neighbourhood in the time of Edw. iii [1327-77] for the weaving and making of cloth of the wool of the upland country". In 1608, 81 people were employed in cloth, 18 in other trades and 27 in agriculture. By 1633, 800 persons in King's and neighbouring Leonard Stanley were dependent upon the cloth industry.
Until well into the 19th century weaving was still done on hand looms situated in the workers cottages. The 1851 census for King's Stanley records large numbers of hand loom workers living in the village, and Marling recalled that even in 1863 he could hear the click of the loom shuttle from the cottages as he rode through the village.
Before that, in the early 19th century the cloth trade was in recession, and, as elsewhere many families emigrated to find a new life.
Castle Inn, Castle St. Innkeeper (c1930) Edgar MALPASS
King's Head Inn. Innkeeper (1830): John LEACH; (c1930) LONG
Nelson, Broad St.?. Innkeeper (c1930), FLIGHT
New Inn, Church St./ Brick Row. Innkeeper (1923) Louis DANGERFIELD. Closed c1960 and converted into a private residence.
Old Crown Inn, Castle St. Innkeeper (c1930) GARNES. Inn demolished before1980?
Red Lion Inn, Castle St/Church St., on the green. Innkeeper (c1800) John COLLINS. [See King's Stanley Monuments for memorial to his daughter, Martha COLLINS, who fell into a barrel of beer and drowned]. Innkeeper (1830) Robert GARDNER; (c1930) BAKER
Star Inn, Broad St. Innkeeper (c1930) MOSS. Converted into private residence (Star Cottage) before 1990.
Weavers Arms, Middleyard.
Amongst items relating to King's Stanley available for inspection at the Gloucestershire Records Office are:
Anglican Church registers. 1573 - 1985.

Baptist Church. Burial certificates 1874 - 1956; Copy of registers 1805 - 1837; Sunday School attendance register 1878 - 1894.
---
King's Stanley