Stroud Area, Gloucestershire
Notes on the parishes and villages surrounding Stroud which will hopefully assist family historians in adding depth to the basic births, baptism, marriage and death records of their ancestors. The notes are taken from odd fragments of information gleaned over the years, and have no specific format. Much of the information is second or even third hand, and should therefore be checked against the original record. Information is added regularly.
Notes on errors, omissions and additions are always welcomed.
Select area from the index below or scroll down the page
Avening; Brimscombe; Chalford; Cainscross; Eastcombe; Ebley; Frampton on Severn;
France Lynch; Leonard Stanley; Minchinhampton; Nailsworth; Oakridge;
Rodborough; Stroudwater Canal; Thrupp; Woodchester
Information on Stroud is given on a separate page
Refer to Records Page for other villages not listed above
---
Holy Cross Church. Norman, partially restored about 1887.
Baptist Chapel. Built 1805, enlarged 1821.
---
Holy Trinity Church. Built 1840. Memorial inscriptions on two tablets inside church, transcribed in 1879, from GNQ.
LEGGE, Revd. Henry James, M.A., Vicar. 22 June 1873
LEGGE, Mary. 22 Nov. 1845
LEGGE, Mary [Junr.]. 9 Sept. 1859
---
St. Matthew's Church. Building commenced 1835, consecrated in 1837 and restored/extended in 1897/8. Memorial inscriptions on four tablets inside church, transcribed in 1879, from GNQ.
CROOME, Elizabeth. 22 Jan. 1827
CROOME, Thomas [Esqr.]. 24 March 1839
CROOME, Thomas Clutterbuck [Esqr.]. 10 Aug. 1859
D'AUBENEY, Lieut. Henry Arthur Phoenix. 24 Aug. 1837
[A monument has been erected to his memory in Christ Church, Bath, by desire of his brother officers].
FERRIS, Revd. Charles Francis, B.A., Minister. 14 June 1841
---
Christ Church. Built 1724, refurbished and chancel added 1841, modified 1857.
Names from nine memorial inscriptions inside church, transcribed in 1879, from GNQ.
BALLINGER, Charles Edmund. 25 May 1852
BALLINGER, Henry, Esqr. 31 March 1855
BALLINGER, John, Esqr. 9 Dec. 1848
BALLINGER, Maria, 31 Dec. 1877
BALLINGER, Walter, Esqr. 28 Nov. 1852
CLEGG, Ann. 19 May 1859
CLEGG, Joshua. 4 May 1834.
CLEGG, Nathaniel. 18 Nov. 1855
JONES [nee HINTON], Hannah. 7 Nov. 1876
JONES, John William. 30 Nov. 1860
JONES, Joseph. 5 Feb. 1839
JONES, Nathaniel. 7 March 1875
JONES, Sarah. 23 Dec. 1845
LOWE, Jane. 18 Aug. 1875
THOMAS, Charlotte. 6 Dec. 1843
THOMAS, Henry. 10 Jan. 1843
THOMAS, Richard Selby. 11 Oct. 1852
THOMAS, William. 26 May 1848
Baptist Meeting House, Coppice Hill. A meeting house was built about 1740. and a Sunday school wing added later. In 1873 the Tabernacle was built at the other end of the burial ground.
Monuments, at former chapel:
Rev. James DEANE, 50 years pastor, 1857, and his wife Elizabeth, 1840.
Congregational. A house at Chalford was registered in 1695, and meetings took place in Chalford Bottoms in the early 18th century prior to a meeting house being built at France Lynch
Primitive Methodist Chapel, Chalford Hill. Built 1823.
---
St. Augustine Church. Built 1868, from design by Rev. W. H. Lowder.
Baptist Chapel. Completed 1801, enlarged 1816 and 1860. Monuments:
Richards FAULKES, 1847, and his wife Esther 1845.
Henry HOOKE, 1833, and others.
Rev. Thomas WILLIAMS, founder and first pastor, 1806, and his widow Phebe 1827
---
Church was opened in 1837
Ebley Chapel. Built 1880-1, demolished in the 1970's (1972?). The congregation then moved into the British School Building.
---
St. Mary's Church. Consecrated in 1315, restored in 19th Century. Features include a 11th century lead font and 14th century tombs. The church is at one end of the 22 acre village green, reputed to be the largest village green in England, and sometimes called Rosamund's Green, after Rosamund Clifford, a Frampton lass who became a mistress of Henry II.
Congegational Chapel. Behind buildings, on NW side of the green. Reputed to have been built in 1760, interior partly refitted in 19th Century Sunday school wing added in 1849.Monuments:-
George BARNARD, 1815, his wife Elizabeth, 1809, and three children.
William BARNARD, 1802, his widow Elizabeth, 1825, and their son William, 1783.
Daniel HEWLETT, builder, 1822, and his three wives Elizabeth, 1786, Ann, 1794, and Lydia, 1843.
Thomas KING, 1783, and his widow Sarah, 1793.
Rev. William RICHARDSON, 1847, his wife Elizabeth, 1843.
John, son of Thomas and Jane WILES, 1786.
Several of the monuments are signed by Frampton craftsmen - E. MORGAN; Felix MORGAN; J. PEARCE.
---
St. John the Baptist. Built 1855-1857, architect G.F. Bodley.
Congregational Meeting House. In the early 18th century meetings were held at Chalford. The date of construction of the present building is not known, but it was in use in 1816 and rebuilt in 1819. A Sunday school was added in 1854.
Monuments:
Henry BALLINGER, clothier, 1785, and others.
John INNELL, clothier, 1806, his widow Mary 1813, and three children.
---
It is called Leonard from the small priory of St Leonard founded about 1200 by Roger de Berkeley.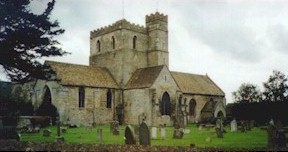 St. Swithen's Church. Norman, restored in 1880 by G.F. Bodley
Photograph taken in 1996.
Church memorial inscriptions. [Page will open in new window. Close after reading to return here]
War Memorial. On a small green at road junction, outside the church. Inscriptions.
Records. Amongst items available for inspection at the Gloucestershire Records Office are:
Anglican Church registers. 1575 - 1985; Overseers Papers 1686 - 1775.
Church of England School admissions registers 1852 - 1969 and school logs from 1881 - 1971.
Methodist. Registers 1839 - 1900
Wesleyan Chapel, the Street. Opened 1809.
Inns and Taverns
Cross Keys. Innkeeper (1830): John ALDRIDGE. The 1851 Census records a John ALDRIDGE as a widower, aged 75 Pauper Publican.
White Hart. Innkeeper (1830): Mark Anthony FRICKER
---
Holy Trinity Church. 12th Century, with additions in 14th Century
Wesleyan Chapel, Littleworth. Built 1790, altered and refitted 1887. The church originated in the late 17th century. Monument, in burial ground :
Hester PARTRIDGE, 1784, daughter of Thomas and Mary Partridge, and their son Samuel, 1799.
---
Shortwood Baptist Chapel, built 1881. Earlier chapel, on different site, built a meeting house around 1714.
Forest Green Congregational Chapel, Spring Hill. Built 1821.
Friends Meeting House, Chestnut Hill. The building was registered as a Quaker meeting house in 1689, but it may have been in use before that date. Burial ground is at Shortwood.
St. George Parish Church. Built 1898-1900. Architect M.H. Medland.
From a transcription taken in 1879 and recorded in GNQ. Memorial tablet in the Church.
1833. June 12. DYER, Nathaniel, Esq.
[Mr. DYER "bequeathed by his will One Hundred Pounds, the interest of which to be applied in the following manner, viz. : the annual sum of one guinea to the minister of Nailsworth Chapel, for a sermon on the sixth day of February; ten shillings to the chapel-wardens; and the remainder of the interest to be distributed in bread to the poor of Nailsworth for ever."]
---
Oakridge
Oakridge Church
From a transcription taken in 1879 and recorded in GNQ. Window and memorial tablet in the Church.
1875, Nov. 12. BARKER, Revd Charles Raymond, M. A., Vicar.
1877. Feb. 4. STOCKWELL, Sarah.
Oakridge Lynch War Memorial [Page will open in new window. Close after reading to return here]
---
Approximately one mile from Stroud. Population 2,038 in 1821.
Zion Chapel, Primitive Methodist, Butter Row. Built 1856.
Rodborough Tabernacle. Preaching house built in 1750, for Calvinistic Methodists. Extended in 1837. Now used by United Reformed Church. See Chapel Monumental Inscriptions. [Page will open in new window. Close after reading to return here]
Rodborough Fort. Built for Captain George HAWKER in 1765. Bought by Benjamin GRAZEBROOK in 1791 from James DALLAWAY (son of William). All three were supporters of the Stroudwater Canal.
St. Mary Magdalene Parish Church. Rebuilt in 1842. See Rodborough Church Memorial Inscriptions. [Page will open in new window. Close after reading to return here]
---
The possibility of a canal linking Stroud to the River Severn had been discussed from the early 18th century. At that time roads were poor and this resulted in items such as coal or grain costing considerably more in Stroud than in Gloucester or Bristol. Following several earlier unsuccessful attempts, construction of the Stroudwater canal commenced in 1774. Work started at Framilode, on the banks of the River Severn. The whole eight and a quarter miles of the canal, to its terminus at Wallbridge, on the outskirts of Stroud, was opened on Wednesday 21 July 1779. The St. Laurence Church, Stroud parish register, after the entries for 1779, details the opening of the canal.
The main undertakers at the commencement of the scheme were:- Richard ALDRIDGE; Thomas BAYLIS ( 1729 - ?); William DALLAWAY (1721-1776); Benjamin GRAZEBROOK (1731-died after 1797); George HAWKER (? - 1786); John HOLLINGS; (?-1799); William KNIGHT (? - 1786); James WATHEN; James WINCHCOMBE (?-1780).
Carpentry and brickwork was mainly carried out by locally recruited craftsmen, but their are indications that the majority of the navvies came from elsewhere. Building of the canal was mired in controversy, with one lawsuit, two acts of Parliament and numerous disputes with land and mill owners. This is well documented in records in the Gloucestershire Records Office, and in the book, "the Stroudwater Canal". If your ancestors were owners or tenants of land or mills in the area during that period, I recommend perusal of the records or the book.
Construction of the Thames and Severn canal commenced in 1783, and was completed in 1789. This connected to the Stroudwater canal at Wallbridge. On Thursday 14 August 1788 King George 3rd and Queen Charlotte, accompanied by the three eldest Princesses visited the canal. The King and Queen, having spent some weeks at Cheltenham, passed through Painswick and Stroud to Wallbridge, where they saw a vessel pass through the lock.
Construction of the Gloucester and Berkeley canal commenced in 1794. In 1820 a junction was constructed between this canal and the Stroudwater canal, and the Gloucester and Berkeley canal was completed in 1827.
The Thames and Severn Canal was closed in stages; Inglesham to Chalford in 1927; Chalford to Wallbridge in 1933; and finally the original Stroudwater Canal closed in 1954. Much of the Canal has been filled in, but 1972 saw the formation of the Stroudwater Canal Society (later renamed the Stroudwater, Thames and Severn Canal Trust).
The Gloucester and Berkeley Canal (now normally referred to as the Gloucester and Sharpness Canal) remains open and viable.
---
Wesleyan Chapel, Brimscombe. Opened 1804.
---
St. Mary Church. Built 1863-1864. See Woodchester Memorial Inscriptions [Page will open in new window. Close after reading to return here]
Priory Church of Our Lady of the Annunciation. Roman Catholic. Built 1846-1849. Consecrated 1849.
Baptist Chapel, Atcombe Rd. Built 1825.
---
Further Information.
Gloucestershire Notes and Queries. Volume 1. Edited by the Rev. Beaver H. Blacker, M.A., and published in 1881.
Gloucestershire Notes and Queries. Volume VI. 1894-5. Edited by W.P.W. Phillimore, M.A., B.C.L. Published 1896.
Notes and Recollections of Stroud. By Paul Hawkins Fisher. Originally published in 1891. Republished by Alan Sutton 1975. ISBN 0 904387 06 2
Nonconformist Chapels and Meeting-Houses, Gloucestershire. Royal Commission on Historical Monuments of England. 1986.ISBN 0 11 300008 1
A History of the Parishes of Minchinhampton and Avening. By Arthur Twisden Playne, B.A. First published 1915. Republished by Alan Sutton, 1978. ISBN 0 904387 25 9.
The Stroudwater Canal. by Michael Handford. Published in 1979 by Alan Sutton Publishing Ltd. ISBN 0 904387 30 5.
Parish Records. Gloucestershire Records Office.