Flight Family of Gloucestershire
The first record of the family is a Marriage Allegation dated 12 December 1682, between John FLIGHT of Painswick, aged 23, clothworker, and Elizabeth GARDINER of Kings Stanley, aged 26. The Bondsman was Thomas TANNAR of Strowde [Stroud], apothecary. Marriage to take place at Avening, Minchin Hampton, or Kings Stanley.
The Bondsman was normally a friend or relative and he, together with the Groom, would sign a bond declaring that should the marriage prove to be invalid in the eyes of God or the law they would pay the church a substantial amount of money. A Thomas TANNAR or TANNER did exist in Stroud in 1682, but I have so far not been able to make any connection between him and the FLIGHT or GARDINER families.
John and Elizabeth settled in King's Stanley.
Children of John and Elizabeth, all born at King's Stanley, Gloucestershire.

Thomas baptised 29 November 1683; married 16 May 1706 at Kings Stanley, Martha BROWNING. Thomas moved from King Stanley to Rodborough in March 1708/9, and a settlement certificate was issued by Kings Stanley Overseers of the Poor. More on Thomas branch of the family, including a copy of the settlement certificate.
Mary baptised 20 February 1686.
Hester?? (female) baptised 28 August 1688; married 6 April 1713 at Kings Stanley William DANIELS.
Judith baptised 1 June 1692.
John baptised 5 August 1695.
Robert, see below.
---
Robert FLIGHT, baptised 9 March 1698 Kings Stanley, buried 1 September 1741 Kings Stanley, married 4 June 1732 at Rodborough Mary CLEEVLAND.
Children of Robert and Mary:

Phebe baptised 20 April 1733 Kings Stanley.
William See below.
Nathaniel baptised 24 August 1739 Kings Stanley.
---
William FLIGHT baptised 8 May 1737 Kings Stanley, married 7 September 1761 at Kings Stanley Ann HAINES.
Children of William and Ann:

Thomas baptised 28 March 1762 Kings Stanley married Ann WALL 24 December 1787 at Kings Stanley?
William baptised 28 March 1762 Kings Stanley buried 29 September 1846 Kings Stanley, married Susannah DENLY 2 November 1788 at Kings Stanley.
Phebe baptised 24 March 1765 Kings Stanley.
Richard. See below.
John baptised 11 March 1770 Kings Stanley.
Daniel baptised 12 September 1773 Kings Stanley, buried 11 July 1775 Kings Stanley aged 22 months.
Daniel baptised 29 September 1776 Kings Stanley.

---
Richard FLIGHT baptised 15 March 1767 Kings Stanley, died 10 January 1850 Borough of Kings Stanley, aged 86 (Death Certificate), buried 16 January 1850 Kings Stanley aged 84 (Parish Register)
Richard married 7 March 1791 at Kings Stanley Sarah HAYWARD who was baptised 5 May 1768 Kings Stanley, buried 26 November 1826 Kings Stanley aged 55. Sarah's parents were Jonathan HAYWARD and Martha TOCKNELL of King's Stanley.
Children of Richard and Sarah, all baptised at King's Stanley:

Hater baptised 26 June 1791.
James baptised 19 February 1795. It is possible that he was the James FLIGHT, a clothworker who married 16 June 1820 at Kings Stanley Mary BUNDY. James and Mary subsequently moved to America.
Richard baptised 24 April 1796, buried 26 February 1797 Kings Stanley.
Sarah baptised 15 April 1798, married Henry GWINELL 22 July 1822 at Kings Stanley.
Richard. See next.
Daniel baptised 6 March 1803, buried 9 February 1821 Kings Stanley aged 18. Died of smallpox.
Ann baptised 15 December 1805, married 15 December 1828 at Kings Stanley George CLUTTERBUCK, a shoemaker.
Elizabeth baptised 15 January 1809, buried 16 November 1825 Kings Stanley, aged 16.
George baptised 18 August 1811. On 9 January 1830 as a clothworker aged 19, from Kings Stanley he was remanded to Gloucester prison, charged with burglary. Found guilty 7 April 1830 he was sentenced to 18 months imprisonment. The record seems to indicate that he died in prison, probably in 1830, but I have been unable to find any record of his death. Prison record for George Flight.

Historical Note: During the first half of the 19th Century the wool trade was in recession and as the weaving of wool was the main occupation of the Stroud area the effect on the population was disastrous. Riots occurred in Stroudwater in 1825, and several parish records note the emigration of villagers to escape the poverty.

Richard FLIGHT baptised 6 July 1800 at Kings Stanley. Richard married, on 24 December 1821 at Kings Stanley, Jane PALZER. Born around 1801 her mother was Mary or May.
Richard was a clothworker, but also sexton of Kings Stanley parish church, and as sexton one of his duties was to ring the bell after the service. Whilst ringing the bell of St. George's after morning service on Sunday 27 October 1844 the rope coiled round one of his legs, drew him twice several feet from ground - his head on both occasions came with great violence against the floor of the belfry. He was so seriously injured that he died the following Wednesday, 30 October 1844 and was buried 3 November 1844 Kings Stanley. The parish burial record does not mention the manner of his death, but a report appeared in the Gloucester Journal.
Almost exactly five years later Jane died of Phthisis Pulmonalis (T.B.) on 20 October 1849 Kings Stanley, aged 48, and was buried 28 October 1849 at Kings Stanley.
The children of Richard and Jane, all baptised at King's Stanley :

Alfred James. See below.
Louisa Medilia baptised 10 June 1827.
Mary Winifred baptised 12 September 1830, married 27 May 1855 at Kings Stanley Isaac COX. Mary Winifred died 19 December 1858 of Phthisis Pulmonalis (T.B.), and was buried on 24 December at King's Stanley.
Sarah Jane baptised 22 September 1839, buried 20 November 1880 Kings Stanley, abode Leonard Stanley, age 40.
Two years after their mother's death the 1851 Census records living together in Kings Stanley, Back lane:-
Mary Palzer, widow, age 74, pauper (woollen clothworker), born Uley. Mary [Mary Winifred] Flight, Grand daughter, age 20, unmarried, clothworker, born Kings Stanley. Jane [Sarah Jane] Flight, sister, age 11, scholar, born Kings Stanley.
---
Alfred James FLIGHT baptised 27 July 1823 Kings Stanley died 14 May 1874 Leonard Stanley, cause Bright's disease of the kidneys. He was buried 17 May 1874 Leonard Stanley.

On 20 August 1840 Alfred FLIGHT, age 17, a clothworker from Kings Stanley, was remanded in custody to Gloucester prison , to await trial on charge of stealing two yards of woollen cloth. Two months later, on 20 October 1840, he was found not guilty and freed. Remand details for Alfred Flight.
A year later, on 15 September 1841, as a labourer [almost certainly he had been unable to find employment in the cloth trade after his spell in prison], he joined the Royal Marines and travelled to Plymouth. . Private 1841-1858. Corporal 1858-1862. Discharged as a Greenwich Naval Pensioner in 1862
Travel and Ships details.
Alfred James married on 1 March 1862 at Leonard Stanley Ann CLUTTERBUCKwho was baptised 22 May 1836 at Leonard Stanley. Parents William and Elizabeth CLUTTERBUCK. Ann was a Clothworker.
Ann and Alfred lived at Marsh, Leonard Stanley. On the death of Alfred, Ann and the children moved to The Street, Leonard Stanley.

Children of Alfred James and Ann, all born and baptised at Leonard Stanley :-

Alfred James baptised 25 May 1862 buried 23 March 1863.
William Richard, born 9 June 1863, baptised 5 July 1863, buried 22 February 1928 Leonard Stanley. Clothworker, lived The Street, Leonard Stanley.
Alfred James born 8 April 1865, baptised 22 May 1865, buried 26 May 1914 Leonard Stanley. Clothworker.
George Samuel born 29 September 1866, baptised 27 June 1867, died 1953. Occupation: 1891 - Agricultural labourer, 1911 - Dyehouse labourer. Married Elizabeth Reems.
Mary Jane baptised 9 July 1868, buried 12 July 1868 Leonard Stanley.
Louisa See below
Mary Jane born 4 May 1871, baptised 31 December 1871.
Daniel baptised 19 July 1874, buried 6 April 1875 Leonard Stanley, aged 16 months.
---
Louisa FLIGHT born 9 October 1869at Leonard Stanley, baptised 25 June 1870 Leonard Stanley. A Clothworker.
Child:
His mother, Louisa, married Charles Ernest ELLIOTT at Coaley on 5 November 1898, and went to live there. Alfred remained in Leonard Stanley with his Grandmother. On 4 June 1901 he entered Leonard Stanley National School. He would have been just under five years of age. The only information in the school admissions register is his name, recorded as Fredk. and his correct date of birth. The columns for name and address of parent and date of withdrawal are unusually left blank.
On 9 September 1907 Alfred joined Coaley National (Mixed) School. His previous school was given as Leonard Stanley, parent Louisa, residence Knapp Lane, Coaley. He left school on 19 July 1909, aged 13.
He worked first at Cam Mills and then the saw mills at Uley.

Historical Note. On Tuesday 4 August 1914 Germany attacked Belgium. Britain, standing by the 1839 Treaty of London, guaranteeing Belgium neutrality, declared war on Germany. World War 1 had started. Lord Kitchener, Secretary of State for War commenced a massive recruitment campaign for at least 100,000 volunteers. Young men flocked to recruiting offices which had been set up around the Country.

Alfred enlisted on 2 September 1914, 8th Battalion Gloucestershire Regiment, private 13706, subsequently promoted to Sergeant. Entered theatre of war 18 July 1915, France. Awarded 1914-15 Star; British War medal, Victory medal, Military Medal. Further details of medals.
He was transferred to reserve 2 March 1919.
For general details of the 8th Battalion Gloucestershire Regiment in the 1914-18 war click HERE.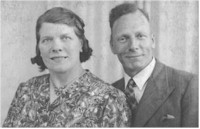 After the war Alfred James William returned to live with his parents at Coaley and worked first as a Midland Railway Porter, then guard. He transferred to Birmingham and whilst working there met Gertrude Carrie BEBB.
Gertrude Carrie was born 9th March 1894 at the Pulpitts farm, a smallholding, near Little Hereford, Herefordshire to Ann (formerly Preece) and John Bebb. John died three years later, aged 40, leaving Ann to look after Gertrude and her siblings as well as tending the small farm.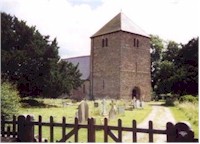 Alfred James and Gertrude Carrie married on 28th March 1921 in St Mary Magdalene Church, Little Hereford
Alfred James and Gertrude Carrie were my Grandparents.
---